Disclaimer: We are an independent, fan-made Earth 2 website. This website is intended for informational purposes only and should not be understood or construed as financial advice.
If you've just heard about Earth2.io, you will likely be wondering how it works.
Learn all the basics today, including easy-to-follow explanations for; registration and login, account settings (with some top tips), land/tiles, land classes, land income tax (LIT), the marketplace and search feature, buying & selling strategies, phases (1 through 3) explained, essence, and teleportation.
Note: As Earth2.io is constantly being improved, some features may change. We aim to frequently update this guide as new features become available.
If this guide has helped you, consider using our referral code on new land purchases for 5% credit back into your account. FQ6FN26UAI
Earth 2 Explained - How It Works?
Earth2.io was released at the Start of November 2020. It is a futuristic concept of a second earth, in the digital world.
Real-world geolocations in the real-world correspond to user generated digital environments inside this virtual metaverse of Earth.
The digital grid on Earth 2 consists of 10mx10m tiles spanning the entire planet. Users of Earth 2 are able to own, buy, sell and in the near future deeply customise their virtual land (build a house, game, shopping centre, advertisements etc).
Earth 2 credits are respresented by E$, and 1 E$ = 1 USD.
Picture a digital world on a 1:1 scale with Earth where the opportunities are endless.
Future expectations of what Earth2.io can become and initial user demand (almost 250,000 people as of 30th January, 2021) have inevitably led to appreciating tile values since Earth 2 was released.
The Earth 2 website states;
It is our vision that Virtual Land will increase in value over time based on demand, location and earning potential, much the same way that physical land does, so be sure to claim your own land in key locations around the world early on!

Earth2.io Website
Your Earth2.io Account & Settings
How to Register and Login to Earth 2
Registering to Earth2.io is easy, all you need to do is go to their website, and click the 'Log in/Sign up' link. You will then be directed to this page;
Click the 'Don't have an account? Sign up' link at the bottom and then enter an email address and password to register. It's always recommended to enter a strong password. You will be sent an email to verify your account.
Note: Currently you cannot change your email from within your user settings, but this may change.
Two-factor Authentication for your Earth2.io Account
One of the first things we recommend doing once you have registered is activating 2FA (two-factor authentication) for your account.
Earth2.io's existing system blocks IP addresses when failed login attempts are detected as added protection to your accounts, but 2FA takes your account security to the next level.
You can set up 2FA by going to 'Settings' and then scrolling down to find 'Open 2FA Preferences'.
Click the button and then from there you will be able to set up 2FA.
Note: We suggest storing your back up codes somewhere safe in case you lose your phone or authenticator app.
How to Change Your Earth 2 Profile Photo
You will find a round circle placeholder image with the first two letters of your email as your default Earth 2 account picture. You are able to change this by clicking on the photo icon in the bottom right corner and uploading an image.
This image will be shown to anyone looking at your profile. Sometimes, your photo may autofill from your email or social account, so you may want to change this before using Earth 2.
Adding Your Flag to Land You Own
Within 'Settings', look towards the bottom of the page and you are able to select the flag of your country. This means that whenever you purchase a tile anywhere within Earth 2, that flag will appear on the tile.
Your Earth 2 Referral Code
Within 'Settings' you will also find your referral code. You can share this code with friends. You and your friend will each receive 5% credit to your account on the purchase of NEW tiles (not user-to-user, i.e. the marketplace).
We recommended reading our guide on Earth 2 promo codes for details on how to apply a code.
Enjoy 5% credit into your account with all new land purchases using our referral code: FQ6FN26UAI
Your Earth 2 Account Stats
Within 'Settings', below your email address at the top of the page you will also find stats and details on;
Owns [Number] Virtual Land - This is how many tiles you currently own, regardless of which class they are (more on this later).
Net Worth E$[Number] - This number is the 'Current Market Value' of the tiles you own. If you purchased tiles at 50% of the market value, it will display the current market value.
Property Value Increase E$[Number] (%) - This is the difference between the value at which you purchased the tiles you own and the current market value of them.
Balance E$[Number] (E$ 1 = USD 1 - nothing has changed) - This is the balance of credits in your account. As previously mentioned, this is not reflected in your net worth shown above.
Adding Credit & Withdrawing (in Settings)
Disclaimer: Only add as much credit as you can afford to lose.
Adding credit is currently available via Credit Card (Visa or Mastercard), or Direct Bank Transfer - TransferWise.
Earth2.io are currently trialing Direct Bank Transfer and its only available for those wishing to add $1,000 or more. See your account Settings for me information on the Direct Bank Transfer option.
As you will be charged in USD, it's worth checking what the currency exchange fees are associated with your deposit method (if not depositing in USD).
If you want to maximise your Earth2.io E$ credits, make sure you're getting as close to the real exchange rate as possible, and again, check the bank fees associated with the transaction. It could be the difference between an extra tile, or two.
Withdrawal information can be found within 'Settings' under 'Withdraw Funds'. There is a process that they detail and recommend signing up to TransferWise for a faster and more seamless process.
Changing Earth 2 Username
Your Earth 2 username can be found in 'Settings'. You can currently change it however many times you like, although this may change in future. Once changed, it will update across all of your owned tiles, active bids etc.
Your username will appear to other people when you send bids, on the land you own, in the marketplace and more.
Scenario: If you send a bid which gets rejected and then you change your username and then send another bid, the owner will still be able to click onto your profile and see which land you own.
Mobile Phone Number
You will also find an option to enter your mobile phone number within 'Settings'. This allows you to receive instant updates on your Earth 2 account.
Changing Map View in Earth 2
When buying or browsing land in Earth 2, you can either select a map view or satellite view. The default choice in your 'Settings' is Satellite and this is what most users use.
Note: You cannot currently set 'Heatmap' as your default Map View.
Land/Tiles on Earth 2
Now that we've discussed the account setup and settings basics, lets dive into a step-by-step guide on Earth 2 land (tiles).
What is Land on Earth 2?
The entire virtual globe in Earth 2 is divided up into 10mx10m (metre) tiles. Land, otherwise known as tiles, are real-world geolocations which correspond to user generated digital content in Earth 2.
Currently, in phase 1, the objective is to claim land. This land will be useful in future phases of Earth 2. Once land is claimed, the owner has the choice of holding onto it, or listing it on the marketplace for a 'Buy Now Price'.
Note: People are still able to send bids for land that is not up for sale, but the properties owner can ignore the bid, reject, counter offer or accept.
What do Red Tiles Mean?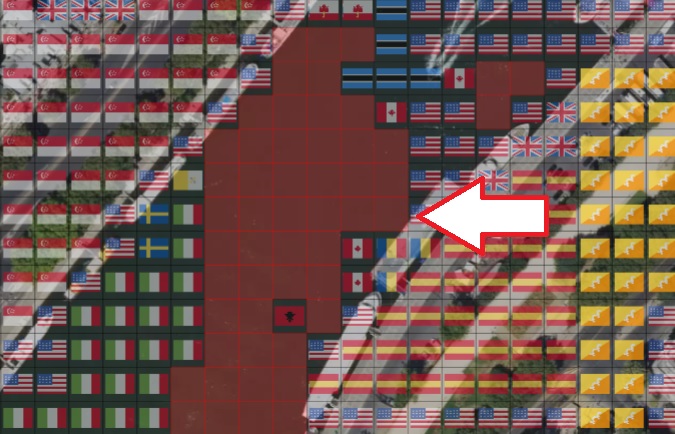 Red tiles in Earth 2 are where a user has not selected their flag within settings. This land can still be bid on.
Note: Once you have selected a flag in settings, you can't then unselect a flag to make the tiles red again.
What is a Property Deed in Earth 2
A property deed, or EPL, in Earth2.io is a set of numbers and letters issued to the owner of a property. A property is a selection of tiles. Or it can be just one tile.
In future, it appears that people will be able to sub-divide their properties if they so wish.
You can find a property deed by going to 'details' on a property.
What is EPL in Earth 2?
EPL, also the same as the property deed, is the 'Earth Portal Location'. This is the unique ID and web address that people can use to instantly find your property.
When clicking 'Copy Link' it will copy the web address of your property (the info after the / is your property deed ID).
There's been some very interesting announcements regarding EPL;
The teleporation system will allow other users to teleport to your property, larger properties will be able to register a more premium teleportation name. After users have fair warning to take advantage of this incredibly important teleportation system, we will also add the ability for users to subdivide their properties, if they should still feel the wish to do so.

A section of Earth2.io's Twitter announcement on 27 Jan, 2021.
Therefore, for people to more easily find your property (and make it more desirable to buyers), you should try to give it the very best EPL name in phase 2.
We predict phase 2 will arrive in late February, to early March, 2021.
How Many Tiles Can You Buy in Earth 2?
The maxiumum number of new tiles that you can select in one purchase on Earth2.io is 750. However, you can own more than 750 tiles in a country or the entire map.
When purchasing user tiles, the maximum property size you can purchase is 750, however you can purchase multiple properties owned by the user.
For example, in Paris, if a user has two properties next to each other at 730 tiles and 725 tiles, you can purchase both properties and own 1455 tiles next to each other, as two seperate properties.
The minimum number of tiles you can purchase is 1. However, if someone's property size is 20 tiles, you currently have to bid on all 20 tiles.
What is Earth 2's Improvement Fee?
When listing a property for sale, a message will appear which details Earth2.io's improvement fee. This fee is 5% on the profit margin of your sale, which does not include the original amount you paid for the land. This fee is not optional.
The improvement fee allows Earth 2 to receive ongoing revenue. By injecting more funds into improving features, and promoting Earth 2, your tiles become more valuable and desirable.
Land Classes in Earth 2
This builds nicely onto the next topic, land classes in Earth 2.
Land classes are categorised from 1-4, 1 being the most desirable and 4 being the least. Land classes are correlated with Land Income Tax (LIT), user demand, as well as future features such as essence and more.
Land classes can be categorised as follows;
Land Class 1: The first 100,000 tiles bought in a country. Class 1 tiles offer the highest Land Income Tax of any class.
Land Class 2: Tiles bought between 100,000 to 300,000 in a country. These are still highly desirable, but offer less tax compared to Class 1.
Land Class 3: Tiles bought between 300,000 to 500,000 in a country. These offer a small amount of tax.
Land Class 4: Tiles bought above 500,000 in a country. These tiles give no income tax.
That being said, all tiles will offer some level of resources (based on future phases - more on this later).
Land Class 5: No details on this, but it is shown within the marketplace filters. Drop a comment if you know anything about class 5.
How Can You See Which Land Class a Tile Is in Earth 2?
To see which Land Class a tile is in Earth 2, you need to click 'Details' once you have clicked on the tile(s) on the map. If you are on desktop and the button doesn't work, scroll down the page to where the 'bid' button is located, and click the 'Details' button there instead.
There is only one 'Details' button on mobile, located by the 'Bid' button.
If you own tile(s), you should click 'Profile' and then click on the property to see these details, or 'Insights' and then 'View' next to the property.
Here's an example when searching the map;
Once you have clicked the details button, all the information relating to that property deed will display.
Land Income Tax (LIT) in Earth 2
Earth 2's Land Income Tax, also known as LIT or Periodic Bonus, is a way of rewarding land owners by giving daily credits back into their accounts.
The amount of LIT you will receive each day depends on how many tiles were sold in the country you own tiles in, and for what price. Your land needs to earn at least $0.01 for anything to be credited to your account.
The amount received also depends on the class of your tiles, and the number of tiles you own in that country.
For example, a property in the United Kingdom only gets LIT from tile purchases in the United Kingdom and the same rule applies to all countries.
You can check your 'Transactions' tab daily to see these credits.
The example above shows that we received credits of +E$0.25 for a 400+ tile class 1 property in France, and the other for a smaller class 2 property also in France.
Here are the LIT percentages compared to land classes as shown on Earth2.io's Land Income Tax article;
Class 1 (0-100k sold tiles in country): 0.1% tax income

Class 2 (100k-300k sold tiles in country): 0.0375% tax income tax

Class 3 (300k- 500k sold tiles in country): 0.005% tax income tax

Class 4 (500k sold tiles in country): no taxes

Earth2.io Land Income Tax article
Earth 2 Trading: Buy Land feature, Marketplace feature, Buying & Selling Strategies
The trading platform in Earth 2 allows people to search for land, claim new land, purchase another person's tiles, or bid on them (regardless if it shows as 'Not For Sale').
The trading platform comprises of two features in phase 1; the 'Marketplace' and the 'Buy Land' search feature.
To begin, we will analyse both of these features, and then move on to some basic trading principles.
Earth 2 Buy Land Search Feature
The 'Buy Land' feature, also known as the grid, allows people to search for land. You will find this button within the navigation menu once logged in.
The autofill search feature means that you can type in the start of the location, and it will autofil with several closely matched options.
Note: If you are struggling to find the location using the autofill search feature, learn how to search by coordinates in Earth 2. This really speeds up the process!
Once you have clicked the autofilled location, it will zoom in on the map to the chosen area. You are then able to move around the map, click on different flags (properties) and also find out more details about those properties, such as; previous sale price, land class, and much more.
Satellite vs Map View
The next important feature on the search is the ability to toggle between 'Map' and 'Satellite' view. This can help you to locate landmarks that you are interested in if it's difficult to see via Satellite, or vice versa.
Heatmaps
Heatmaps arrived in Earth 2 on 21 February, 2021. Heatmaps display where purchases have most often been occurring! The results are very cool and give an amazing insight into where the most popular and best land areas are!
You can find heatmaps on the 'Buy Land' search feature, next to the 'Map' or 'Satellite' views. Select 'Heatmap'. If you are still seeing flags, zoom out and the heatmap will display and change as you zoom out.
You can learn more about the exciting new heatmaps feature here.
Zoom Toggles - Magnify Tiles
You may find that the flags are getting in the way of seeing exactly what the locations are. This is where the zoom toggles come into play.
# Reset to Default Zoom Toggle
This brings you back to the default view, where flags and properties are in view for you to select. This is typically the best view when browsing the map.
+ Zoom In Magnifying Toggle
The + toggle zooms into the tiles further, magnifying the location and displaying the tiles unique ID and flag.
- Zoom Out Toggle
Zooming out shows locations without flags on them. This can help to identify the location you are searching for.
We recommend zooming out when buying or bidding on land to double check it is the exact location you wish to purchase.
The above example shows a clear image of the Eiffel Tower in Satellite view.
Earth 2 Marketplace
The marketplace in Earth 2 is where you can find the latest discounted land, or tiles that fit a chosen filter. You can filter by 'Country', and 'Tile Class'.
When you open the marketplace, results will automatically be sorted by 'Tile Value Low'. This shows the most heavily discounted tiles compared to their market value.
Market value is calculated by Earth 2, not users.
Marketplace Filters
The marketplace filters are where you will be able to customise the property listings to show good deals.
If you get familiar with these filters, they will help with certain trading methods, the most obvious of which is finding recently listed deals, buying low, and selling at a profit.
Alternatively, they can be a great way to find interesting properties and ideas, some of which you may buy to keep hold of.
You are able to sort listings by; Tile Value Low, Highest Net Worth, Most Tiles, or Property Value Low. The most popular is the default; Tile Value Low.
Market Value History - Country Statistics in Earth 2
The 'Market Value History' button is also the same page as the 'Countries' tab. This shows all the statistics of tiles bought in a country, and tile value (with % increases or decreases) over a default 7-day timeframe.
How to Sell Earth 2 Tiles
When you own tiles in Earth 2, it's easy to list them for sale. The two ways to sell land you own are to go to 'Profile' and then click 'Edit/Sell' under the property you would like to sell, or go to 'Insights' and then click 'Sell'.
We highly recommend double, and triple checking the total or per tile price you list the land for, as once it's sold, it's sold.
Note: There is a 5% Improvement Fee on any profit made (which does not include your initial investment).
Top tip: Always keep an eye on your active counter offers you send people within the notifications or transactions tabs. If you leave a counter offer active on your land, and land prices rise, then a user can accept that offer at a later date.
Hopefully we may see time-limits introduced to counteract this, helping both buyers and sellers.
Selling Land via 'Profile'
Selling land via the Profile tab allows you to add a description of the item, the total price and also whether the property should show up on the marketplace. You can uncheck this option if you would not like the property to list onto the marketplace.
An item that you have not listed for sale will show as 'Not For Sale' but people are still able to place bids. It just means that you have not set a Buy Now price.
To make your land appear as 'Not For Sale' again after listing, you need to uncheck 'Advertise in Marketplace' and then click save.
Selling Land via 'Insights'
Selling land via 'Insights' in Earth 2 allows you to adjust the price per tile instead, or the total price. It also shows the profit %.
Listing via Profile is currently a little more comprehensive, but Insights offers good stats on profit margins and the price per tile.
How to Accept, Decline or Counter a Bid From Someone?
To accept, decline or counter someone's offer for your land in Earth 2, you can either go onto the item, or go to the notifications area. You will recieve a notification letting you know what the offer was.
Always double check the amount offered before clicking accept, or countering.
Once you have made a counter offer, the person who offered then considers that counter offer. While this happens, you cannot accept the previous offer, you need to wait for them to respond (or you can cancel your offer).
How to Buy Earth 2 Tiles
You are able to buy tiles by using the 'Buy Land' search feature, or the 'Marketplace'.
We highly recommend checking the property sales history, and also scope around the location you are buying to see the price of previously sold land. Doing so gives you great insight as to whether you are overpaying.
That said, if the land has little sales history, and it's a prominent landmark, it can be hard to gauge the price as often times the market price is not the price buyers are willing to pay.
Some people will have made a large profit after buying land early in Earth 2, and therefore will be happy to sell at a cheaper prices now, but many people will not want to sell due to future expectations of phases 2, and 3.
How to See How Much a Tile Was Previously Purchased for in Earth 2?
After clicking on the tiles (or flags) on the map, you can scroll down the page and the property history will display. This includes previously paid prices, dates, user information and also an additional section on active bids.
If a bid has been declined, or removed by the user bidding, then the bid will not display here. Declined or removed bids do not display on a properties history, so you are unable to see what previous people have offered the land owner.
Important: Notifications & Keeping Track of Bids in Earth 2
Keeping track of active bids is currently one of the most important aspects of buying land. A bid will remain active, unless it is declined or countered by the owner, or cancelled by you.
You will be able to see a timeline of actions within the notifications area, indicated by the bell. The number is how many unread notifications you have.
If, like us, you frequently bid on land then it can soon snowball and get a little difficult to monitor. We highly recommend keeping track of active bids and cancelling those which you are no longer persuing. Also, prices change, market values change, so it's important to keep on top of it.
Cancelling bids also allows you to have a larger credit amount to use as its not tied up in active bids. We generally keep to the rule that if an owner doesn't reply within 24 hours, then we'll cancel the bid and move on, looking for somewhere else.
You are able to click the button 'Mark All As Seen' to mark all notifications as read. This helps if you're scrolling through your notifications feed and seeing many declined bids, without the need to action further.
Easy Trading Strategies in Earth 2
Day trading 'flipping' - Scanning the marketplace and looking for owners listing their land significantly below market price. After doing research to see similar land prices, class, and location etc, you offer slightly lower (unless it's already a great deal) and resell at a profit.

Buying popular / high traffic locations and holding - With phases 2, and 3 around the corner, many people feel demand in future will drive up land prices, especially in popular locations with high footfall. Add to this the talk about VR, advertising and other users being able to build on your land where you receive a % (plus much more), and it seems like a solid strategy if you get the land at the right price.

Cooperative strategies - Many players are teaming up in guilds or groups and are working together. They all agree to buy tiles in a cheaper location to build Megacities. Buying early ensures class 1 or class 2 tiles too which are good for LIT (land income tax). These cities with such a large number of tiles next to each other will encourage other players to join, increasing demand and generating significant credits.

Buying land on resources - In phase 2, "essence" will be introduced. All tiles will produce essence, which will allow you to spend it to gain resources from the tiles you own. Resource rich places such as gold mines are being bought up in the hope that gold can be mined from them. This increase in demand is leading to higher land prices in these areas. It is unclear exactly how resources will work, but all tiles will produce some level of resources.

Class strategy - Buying cheap tiles in Class 1 and aiming to receive top Land Income Taxes (LIT). People scan the marketplace by filtering to class 1 and see whether anyone lists a significantly reduced class 1 property. Alternatively, searching the map and offering for Class 1 land.

Buy in newly announced locations - Dubai & UAE land will be available for purchase soon (announcement soon - there will be a countdown and that countdown will be longer than 24 hours). Tiles will be $0.10 so significant profit can be made.

Teleporter strategy - In phase 2 teleporters will arrive. You will have a unique teleporter name for your property. Similar to domain names, the most desirable names will be highly demanded, adding value to your property. Larger properties when upgaded with essence will be able to register shorter, more desirable names.
Earth 2 Advertising Income - Coming Later
The opportunity to place advertisements on land is an exciting prospect for many people. When they are delivered on land you own, you will be given a percentage of the revenue generated, depending on land class.
Therefore, its a good idea to own land in key, high-traffic areas as these will generate higher advertising revenue. That's not to say that other strategies aren't good ideas, such as joining Megacities, but in terms of revenues, key areas seem like a good way to go!
Digital Assets in Earth 2 - Coming Later
If a user builds on your land (a house, game, shopping centre, etc), you will receive a percentage of these digital assets in credit, which will be added to your account.
It is rumoured that the person wanting to build on your land will need your permission.
Earth 2 Insights
The insights tab shows the land you own, date of purchase, price purchased for, current value, along with action to view more details or sell the land.
This is a great way to quickly see information on everything you own.
Earth 2 Leaderboards
Leaderboards show players or countries in the top 50 of highest net worth, and most tiles.
Earth 2 Phases
Phases are the roadmap of how Earth 2 will progress. This will include upgrades to existing features and the addition of new features. Each phase will be released at different times, starting with phase 1, through to phase 3.
You can learn more about the different Phases here.
Phase 1
Phase one is all about trading. Buy, bid, sell, counter or keep hold of land ready for what is to come in phases 2 and 3.
Phase 2
Your land will begin generating different types of resources, vital for building an economic purpose in Earth 2. Resources will be tradable with other users, or for credits.
When users find loot, treasure or resources on land that you own you will automatically be given a portion of the ownership depending on what type of land class you own.

Earth2.io Benefits Article
If you're sitting on a literal goldmine, yes, that surely will come in handy soon. But some people may be sitting on a metaphorical one without even realising it for years, until suddenly a formerly undiscovered raw material under their soil becomes the most important element for an exciting new technology, demanded by basically everyone.

Earth2.io Discord Announcement
We've also recently seen than as part of phase 2, essence will be produced by your tiles, and the teleporter and advertising will be introduced. Digital assets may also be included as part of phase 2.
We can expect phase 2 to release in the first half of 2021, we predict around late February or March.
Phase 3
We will be given access to the Earth 2 Terrain system in phase 3. You can see the recent announcement video on that here;
We hope this guide has answered all of your questions. Ask any questions in the comments below.
If this guide has helped you, consider using our referral code on new land purchases. FQ6FN26UAI